windows and doors from the WoodAluminium series
LA81 LINEA plan
Extremely clean and minimalist design where the fixed frame and moving frame form a single continuous line.
The unit can be installed flush with the wall, maximising natural light indoors.
Unit composed of 100-mm fixed frame and 81-mm moving frame with triple sealing profile and three seals, equipped with exterior aluminium-profile casing.
Exterior aluminium coating available in a wide range of finishes, including faux wood and matt RAL colours.
30-mm thick double glazing with perimeter seal.
Frame cross-section mm 79 x 110
Window-panel cross-section mm 81 x 70
Thermal transmittance:
Glass Ug value 1.1 W/(m²K) at 30 mm thick
Window Glass 4-20Ar-33.1 Low-E warm edge
1 panel Virtual dimensions 1000 x 1480 mm
Extra-softwood 1,20
Softwood 1,30
Semi-hardwood 1,30
Hardwood 1,40
2 panels Virtual dimensions 1230 x 1480 mm
Extra-softwood 1,30
Softwood 1,30
Semi-hardwood 1,40
Hardwood 1,40
French window Glass 33.1-18Ar-33.1 Low-E warm edge
1 panel Virtual dimensions 1000 x 2180 mm
Extra-softwood 1,20
Softwood 1,30
Semi-hardwood 1,30
Hardwood 1,30
2 panels Virtual dimensions 1480 x 2180 mm
Extra-softwood 1,30
Softwood 1,30
Semi-hardwood 1,30
Hardwood 1,40
Air permeability (window and French window) Class 4
Window Class E1050
French window Class 7A
Window Class C5
French window Class B4
Load capacity of safety devices 350 N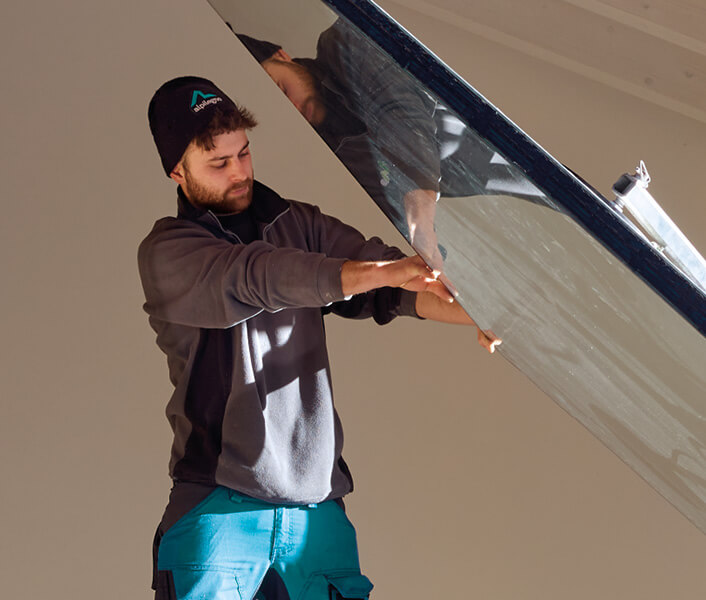 laying:
we do it
just perfect